15 November 2014 by Rita Taylor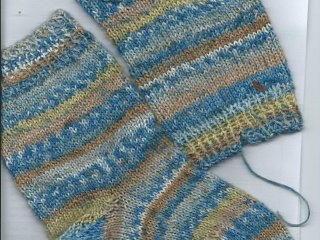 I've been knitting socks as presents, and as items to sell at our local Christmas Fair. I'm trying various yarns with a basic 56 stitch pattern. I've added a bit of lace to some and with others I've let the yarn do the work. I thought they would all come out the same size but no, Drops Fabel made smaller socks than Bergere Goomy and Noro Silk Garden 4ply made bigger ones. All the ball bands stated 2.75mm needles. Off to make some carrot and coriander soup now for a bit of inner sustenance.
Recipe: 2 large carrots, 1 onion, 2 medium potatoes.
Sweat onion in 1 tbsp olive oil for 5mins, add chopped carrots and potatoes, 1 tsp of stock powder, 1 tsp coriander, seasoning. Stir round in oil then add water to cover. bring to the boil then simmer for 20mins. Puree it as much as you want with a blender.
While the soup is simmering I shall start some more socks with King Cole Zig Zag in a bright red/yellow mix, a bit like the soup!