11 December 2015 by Rita Taylor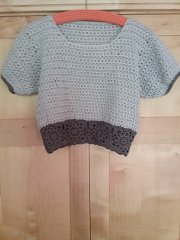 It's 3 months since I last posted. How time does fly. An awful lot of knitting and crochet has gone under the bridge in that time. A couple of aran cardigans, several items for the Art of Knitting but mostly a lot of crochet.
The little crop top pictured here is ready for a book I hope to have published next year. The tiop is a fairly simple piece to work with mainly trebles for the body, but a row of motifs along the edge. I am planning to make a skirt to go with it too. The book will contain mostly wearable items, but also a few bits and pieces, such as bags and throws.
So, as I will be busily plying my hooks and needles over the next few months, it might be a while before I post again!